Police Ahua Set To Tie Knot With Rihanna; Exclusive Details Dropped
Popular Ghanaian police officer, Police Ahua born Salifu Abdullah is getting married this year.
Ahua, who is known for his tactical outfits, posted pictures of his wife-to-be Rihanna with the hashtag #SALIHANNA23.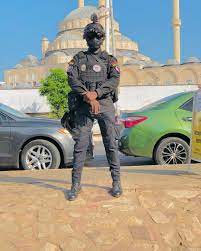 The couple is scheduled to have their wedding on December 31, 2023, in Koforidua in the Eastern Province of Ghana.
READ ALSO: Join The Festivities As Trotro Diaries Celebrates A Dozen Years Of Captivating Tales
A photo showing their excitement and anticipation for the big day took over social media after congratulatory messages followed.
The Mandem CEO confirmed that he had indeed found his wife and was ready to leave the market.